Warning! You may get seriously addicted to this!
This is easily one of the simplest but tastiest recipes ever. I first had this Mackerel Pate at my Auntie's for lunch a while ago and knew Mr C would love it. He is a massive mackerel fan but I'd never understood why, until this.
Its dirt cheap – Just £3 for 4 servings. We are really exciting and have it with warm white toast but if you are posh and feeling extravagant you could serve it with crackers.
Mackerel Pate
Print recipe
Super easy recipe for Mackerel Pate using only 3 ingredients
Ingredients
3 Smoked Mackerel Fillets
150g Natural Yoghurt (I used Yeo Valley 0% Natural)
8 Spring Onions (Chopped Finely)
Directions
1.
You won't believe how quick and easy this is ...Open packet of Mackerel, place into a bowl, break up into small pieces using a fork,
2.
Pour in the yoghurt and add the onions and mix together - You can add black pepper if you like
3.
Serve in individual ramekins with warm white toast
I'm entering this recipe into Emily's Recipe of the Week – Its definitely our Recipe of the Week, we're addicted and have had it 3 times this fortnight (and there' s more in the fridge!)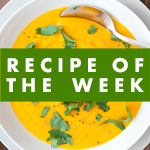 I'm also entering into April's Family Foodies Event hosted by Bangers and Mash and Eat Your Veg- This month they are concentrating on Healthy Snacks = I know Mackerel is full of fat but its 'good fat' innit?