Every Christmas, I have a huge list of Foodie Gifts that I intend on making. Time always seems to run away with me but surprisingly enough, this year I actually seem to be getting somewhere. The rest of my present buying is practically non-existent but I have been spending some time in the kitchen.
One of the biggest successes so far has been this recipe for White Chocolate and Raisin Fudge. It has been reliable time after time. I love that it takes hardly any ingredients and that they don't have a short shelf life either before or after making the fudge. Even better, the fudge is fine to be kept out of the fridge once it is made. I have a real issue with truffles that have to be made at most a couple of days before they are given and then have to be kept in the fridge – Who has time for that in December?
Expect plenty more Edible Gift recipes and ideas over the next few weeks – If you are making any, please feel free to link up below. I am doing an Edible Gift roundup on Thursday 12th December so the link will remain open until then.
I'm also joining this recipe in with Karen from Lavender & Lovage's Tea Time Treats challenge and the One Ingredient Challenge over at Howtocookgoodfood & Franglais Kitchen.
White Chocolate & Raisin Fudge
Ingredients
500g White Chocolate Chips or Chopped into small pieces
45g butter - At room temp, chopped into small chunks
1 tin of condensed milk - Mine was 395g
100g Raisins
Instructions
Add the White chocolate, butter & condensed milk into a microwaveable bowl
Heat on full power for 4 x 30 seconds stirring well each time.
Depending on how strong your microwave is, you might need one more blast of approx 20 seconds.
Add the raisins and mix so evenly distributed across the fudge. If you like quite a few raisins, add more.
I used a 8" square tin but I think a 9" square would probably be better as my fudge was quite tall.
Chill in the fridge for at least 4 hours.
http://casacostello.com/2013/11/19/white-chocolate-raisin-fudge-edible-homemade-gifts/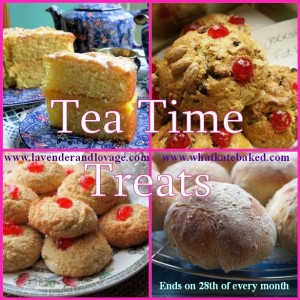 Mister Linky's Magical Widgets — Thumb-Linky widget will appear right here!
This preview will disappear when the widget is displayed on your site.
For best results, use HTML mode to edit this section of the post.