I'll never forget the first time we had Monkfish. We had not long bought our first house and we were starting on our cooking journey – I'd just about mastered a chilli and Sweet n Sour, but wanted to experiment with fish. Someone had told us to try Monkfish saying how meaty it is and that we would love it – How right they were. I love how filling it is, so often with fish I feel a little bit empty as soon as I've finished my meal. (Our second experiment with fish wasn't quite so successful – the fish was off and the cat went crazy trying to jump up and get it- Have never felt the same about bony fish since).
So, back to the Monkfish – I've had it several times since (not that often though as it can be quite expensive). Tip: the best time to buy Monkfish is last thing on a Saturday night in an supermarket, they often slash the price by half.
I do love a tomato and spice Monkfish dish – It goes so well with chilli. I like that the rest of this dish is fairly cheap and uses simple ingredients that we tend to always have in. If I spot a Monkfish bargain, I can pretty much guarantee that I can make this that night.
Monkfish Linguini
Print recipe
Ingredients
1 Shallot (Finely Chopped)
150ml vegetable stock
500g Monkfish Tail (This is approximate - If you can only get 350g that will do just fine! Chopped into 2-3cm chunks)
1 Red Pepper (Finely Chopped)
1 tin Chopped Tomatoes
2 cloves Garlic (Finely Chopped)
1 Red Chilli (Finely Chopped)
Linguini (Cooked until just soft - Between 75g -100g per person depending how hungry you are)
Rocket to garnish
Directions
1.
Slowly cook the shallot in 1.5 tbsp vegetable oil until transparent and just starting to soften - You don't want them to brown
2.
Add the vegetable stock and tinned tomatoes, and the monkfish. Replace the lid on the pan and allow to steam cook for 8 minutes until just cooked
3.
Add the peppers, chilli and garlic and continue to cook (lid off) for a further 2-3 minutes
4.
At the last minute, add the cooked, drained linguini to the fish and mix until all combined - the fish is quite sturdy but you still don't want to be too rough and break it all up.
5.
Serve with rocket on the top and a good grind of pepper
Really happy to be in charge of the Round Up for #FoodieFriday this week. There were some brilliant posts linked up to Romanian Mum last week – I've added quite a few ideas to my 'To Cook' list!
My ultimate favourite from last week was Boo Roo & Tigger Too's Pain au Chocolat & Orange Pudding – Just perfect for the autumn evenings and features one of my favourite combinations of chocolate and orange. Congratultions on being our featured post!
I've compiled a display of all the other entries – They are so varied. There are such very clever bloggers out there!
From top to bottom:
1. Easy Carrot Cake with Cream Cheese Frosting from 3 Children and It – This was my husband's favourite from this week's collection!
2. Eton Mess with a Twist – I'll let you read Bod for Tea's post to find out what the twist is.
3. Double Chocolate Oaty Cookies – Oops they're mine!
4. Candy Corn Cheesecake Mousse from A Mother Thing – How bright and cheery are these?
5. Marshmallow Eyeballs from Eats Amazing – I daren't show my children her blog, they would think I'm rubbish at lunches!
6. I do this linky so I can discover new blogs to read and get inspired for my cooking, My Fussy Eater is one of those blogs I think I'm going to be spending a lot of time reading! Mango Coconut Chai Pudding
7. Mini Strawberry Tartlets from Food For Dissertating – Who wouldn't love these in their packed lunch box?
8. The wonderful Pink Velvet Malibu Rum Cake that has been in my thoughts all week – From Chez Maxima
9. Saturday Banana Smoothies that my 3yo would absolutely love from Mum in a Nutshell
10. Pixie Dust, I LOVE your Maple and Bacon Cupcakes – These are definitely on my list!
11. I'm a sucker for anything with a surprise centre so love these Surprise Centre Muffins from Inside the Wendy House
12. So not good for the waistline but perfect for the palate – Rocky Road Cheesecake from Garden Tea Cakes and Me
13. The Recipe Resource describes herself as a Baking Novice – Her Date Muffins beg to differ!
The linky is now live for this week's #FoodieFriday – The theme for this week is NO THEME!! Yep, its a free for all – join in with up to 3 posts. Just please remember to display the badge and link to Casa Costello and Romanian Mum
If you tweet your entry please use the hashtag #foodieFriday and we will do our best to retweet. We visit each entry with a comment, Pin it, tweet and Google+.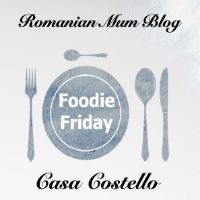 Loading InLinkz ...