Its getting exciting now – Less than 3 weeks to go before the BIG DAY. I've still got tons to get sorted but can't help my mind wandering to Christmas Food (to be fair, my mind is never that far away from food!)
This week's #FoodieFriday them is all things CHRISTMAS – In fact we are going to be keeping the linky open for the next MONTH! Yes, you've got ages to be able to link up as many Christmas inspired recipe as you like. Whether they are savoury, baking, cakes, veggies or using up leftovers – they are all welcome here. The linky will remain open until Thursday 1st January 2015.
To celebrate I have compiled a list of my most favourite Christmas recipes that I have shared over the past couple of years – no surprise that they are mostly sweet – I do eat the odd sprout but don't seem to have blogged about them.
In addition to the most recent recipes for Christmas Tree Cupcakes and Marzipan Puppy Chow, We also have one of my most favourite recipes ever – My Lemon Curd & Amaretto Trifle. The photo might be rubbish but the taste was magnificent – Definitely on the list to be made again this year.
I'm waiting impatiently for the children to break up from school so we can crack on with the real Christmas baking – Over the past year, I've really worked on my relationship with yeast so am much more confident about getting a light and airy Stollen – Even if it is rather flat like last years' it will still be delicious!
My panforte will no doubt be making an appearance at the annual Costello Christmas party – I think last year we had a competition between my Auntie Linda's panforte and mine. Couldn't possibly tell you who won!
Of course, we need the obligatory savoury recipe, my Oven Baked Turkey, Chestnut, Bacon & Prosecco Risotto – This was perfect on New Year's Eve last year.
If you run out of time or get unexpected guests, my Celebration popcorn is a perfect quick make!
Brilliant response to last week's #FoodieFriday – There were some truly creative recipes and foodie posts.
I've picked 3 favourites to highlight …
From left to right:
Spanakopita from In the Kid's Kitchen – I love how this went down a treat with her children and everyone couldn't help staring at her fussiest loving it. Every parent's dream!
Seasonal Spanish Persimmon Jelly from All About You – So pretty – Any guests should be honoured to receive some of this.
First Apple Pie from Mami Tales – complete with a beautiful story of teaching her little one how to make an apple pie. A legacy that will last a lifetime.
Best of luck with all of your Christmas baking and cooking – I'm sure I'll be sharing a few more in the next 3 weeks but in the meantime, feel free to add yours to the linky below. There is no theme – Just anything that is remotely Christmassy. Please add the badge to your post and if you could link back to Casa Costello and Romanian Mum, that would be fantastic. Old posts are fine as long as they contain the link. If you are inspired to do your own Christmas Foodie roundup, you are welcome to include it too!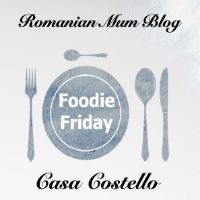 Loading InLinkz ...