I'm very pleased to have joined up forces with the lovely Otilia from Romanian Mum in celebrating all things food. Every Friday we will be taking it in turns to lead the Foodie Friday linky. We would love as many people as possibly to join in and share what you are cooking with us – We have very easy themes to follow each week – This week feel free to share anything SAVOURY! Here's how to join in …
* If you have a recipe or post that fits the theme, add it to the blog hop linky below – It can be a new or old recipe
* Please visit at least lone other entry and share the love. Let them know how you found them by add #foodiefriday (or even #foodiefridays)
* If you tweet your entry add the #foodiefriday hashtag and we will do our best to retweet
* Please add the badge below and link to Casa Costello (http://casacostello.com) and Romanian Mum (http://romanianmum.com) in your post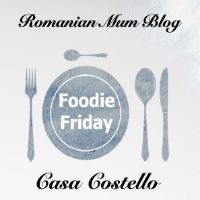 Throughout the course of the week, myself and Otilia will be commenting, tweeting, google+ing and pinning your entries – Feel free to follow the Foodie Friday Pinterest Board.
I wouldn't be me if I didn't have a recipe to celebrate our new project – I'm sharing today my Savoury Chorizo, Pepper & Chutney Puff Pastry Pinwheeels
Chorizo, Pepper & Chutney Puff Pastry Pinwheels
Print recipe
Crispy Puff Pastry pinwheels filled with tasty chorizo & pepper
Ingredients
1 packet Ready to Roll Puff Pastry
1 Red Pepper (Finely Chopped)
1 Yellow Pepper (Finely Chopped)
50g Chopped Chorizo
5 tablespoons Onion Chutney
50g Soft Cheese
Directions
1.
Take the puff pastry out of the fridge to soften slightly
2.
In a small pan, sweat the peppers until soft and add the chorizo for 3 minutes - Remove from the heat
3.
Spread the Soft Cheese all over the pastry and spread the onion chutney on top of this
4.
When the peppers and chorizo have cooled, spread them evenly over the chutney/cheese
5.
Roll the pastry as tightly as you can and double wrap in cling film
6.
Place in the freezer for 30 mins. Preheat the oven to 180C and prepare 2 baking trays
7.
Chop the pastry roll into 1cm slices and place on the sheets
8.
Bake for 25 mins until crispy and golden - Enjoy!