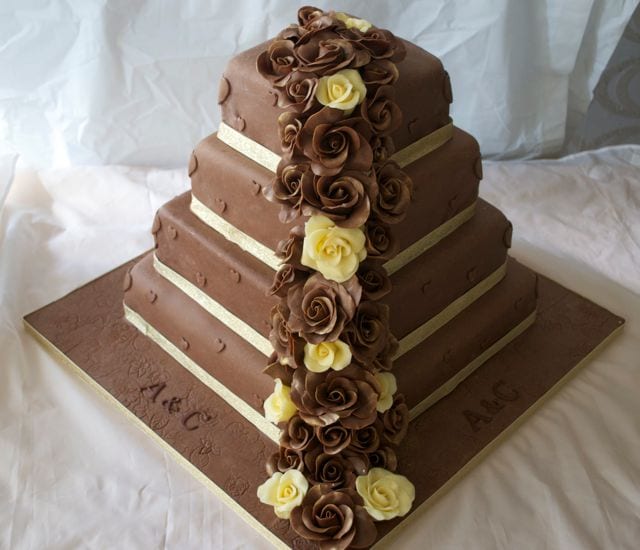 Happy Easter Everyone. Hope you are having a wonderful day. We have unexpectedly come home early from our second caravan trip of the year – Violet became unwell yesterday and we didn't want to chance her spending the night vomiting in the caravan – Of course, as soon as we got home, Violet was right as rain. We don't mind really as we got a couple of days to spend at home relaxing. We have been to church this morning which was lovely (Tara wasn't quite so impressed) and now we are home to carry on eating chocolate.
Our house was slightly more full than usual of chocolate this week due to a massive 4 tier chocolate wedding cake for a couple that got married on Good Friday.
They wanted the same style cake as this one but slightly different so chose it to have the corners covered by the moulded roses. Each rose was dusted with gold lustre and each tier was chocolate fudge cake. I'd completely forgotten how long it takes to do the roses (especially the white chocolate ones that melt as soon as you look at them)
For those who would like to have a go at making moulded fondant chocolate roses, heres how:
We've not had a Cake of the Week link up for a while, so here's the link – don't forget to spread the word and invite new members – I love seeing your creations!