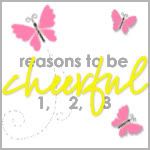 That got your attention didn't it?
No, not me… blimey I've got my hands more than full with these 3 but there is going to be a baby…
Reason to be cheerful 1: I'm going to be an Auntie again
My youngest sister is going to have a baby (eek!) in December – so excited! Rachel has asked if she was going to be mentioned in my Reasons to be cheerful list – hell yes! Ray is even planning on starting a blog about her baby journey – She has even shown me work in progress so far and it looks fab.
Another cousin for my girls – We already have 9 nieces and nephews (good catholic family and all that!) but another one is just as exciting. My mum will have doubled her grandchildren to 6 in the space of 12 months – Christmas is going to be interesting this year!
Reason to be cheerful 2: Another wonderful niece
My eldest niece found out this week that she is going to be Head Girl in her school next year. We already knew that she had been nominated in the last 5 out of 200+ but she really did not expect to get it as she thought others would be chosen. She is lovely and a godmother to my youngest daughter – all 3 of them adore her. Well done Becky – really proud of you!
Reason to be cheerful 3: The joy of swimming
I have joined the gym again! Not normally a reason to be cheerful but I have really missed my membership since we left last year. I am sooo not a gym babe but love swimming – however, I am a real snob about which pools I will go in. I have started a 4 month membership at my old gym and have been swimming twice already this week and am loving it – I hope to take Baby T too and of course it all helps towards achieving my goal of being size 14 by the time I'm 40!
For more cheerful news, visit Mummy from the Heart