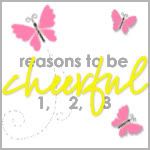 2 weeks on the run & I'm cheerful! Must be a record.
Once again, I'm joining in with Michelle's Reason to be Cheerful link up – it really is lovely to read through the other entries and see what brightens up people's day. I haven't been able to comment as much as I'd like due to being so busy but hopefully this week I should get round to everyone.
My reasons this week are quite simple and homely – I love this time of year when you start to get your winter woolies out and batten down the hatches – Although, we have had to do it slightly earlier than most Septembers.
Reason to be Cheerful 1: Ice-Cream
We eat TONS of ice-cream in this house especially little V – so I've ordered an ice-cream maker and it should arrive tomorrow!!! I can't describe how excited I am – watch this space for tons of interesting combinations.
Reason to be Cheerful 2: Parties
I'm sure I've mentioned parties as a reason before but this weekend its party season again – We are heading out for a lovely celebration meal on Saturday for my brother-in-law-to-be's 30th. Happy birthday Chris!
Reason to be Cheerful 3: A FootMuff
I beg your pardon, I hear you cry? How can a footmuff be a source of cheer – because we haven't been able to get hold of the one that goes with Tara's pram since we ordered it – and finally we have tracked one down. Winter, do your best … we are armed!
Told you they were simple. So head over to Bod for Tea's place who is hosting this week. I'm sure there are far more deep and meaningful reasons than mine – but hey, everyone is allowed a shallow week!