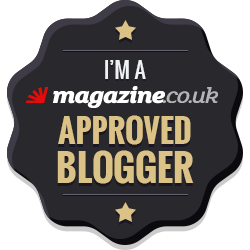 If you are particularly eagle-eyed, you may have spotted my new badge in my sidebar. I'm very happy to have been chosen to be an Official Magazines.co.uk Blogger. This is definitely up my street, I've been a magazine lover for as long as I can remember. I love that my girls get so excited when I buy them magazines too so its carrying on in the family.
AS part of my role, over the next few months, I am going to be reading a reviewing a number of magazines – I have chosen 3 favourites that I want to share with you. You will not be surprised that they all have a foodie theme – I have tried to mix and match them though!
Delicious Magazine
A favourite with foodies! I always think there should be 3 elements in a good food magazine:
There should be something to make that seems familiar but you haven't made for ages
There should be a challenge recipe to make – Something that contains an ingredient you haven't used before or something that involves different processes and steps
Something new that will become a household favourite in time
What do you look for in a magazine – do they always have to be impulse purchases? Mine don't – I prefer to plan ahead when I know I will get to read my magazines and save them for long journeys or staying overnight in hotels.
For me, Delicious magazine has all of these elements. There are plenty of recipes that we could make now – Ingredients that are easy to lay our hands on. Just a new way of serving familiar foods. The back section of the magazines are jam packed full of family favourites, weekday meals and child friendly meals. Most of the meals have pictures which is incredibly important to someone as visual as me – The pictures are clear and not pretentious. I squeal when this month's mag drops onto the doorstep!
Food Heaven Magazine
This is my nod to my love of baking – These are a series of magazines devoted to Baking, Cupcakes and Sugarcraft. I may have been baking for several years but there is always something new to try. The Cupcake magazine that I have received so far has an excellent mix of recipe suggestions and cupcakes decorating ideas. There is something for newbies to decorating (How to make marzipan roses) and something for the more experienced decorator (Wedding favour cupcake ideas). I have bookmarked several recipes for the coming weeks so keep an eye out!
Homemade
I've talked before about my love of crafting – I cannot limit myself to just one type of craft though. Although there are plenty of specialist craft magazines dedicated to knitting, crochet, photography, paper craft … the list is endless. I love Homemade magazine as you never know what will be covered. The projects are not too big, expensive or time consuming which all appeal to me. I like the thought of learning something new without breaking the bank or having to move out to accommodate all the equipment I need to buy.
And so there we are for now – I very much look forward to bringing you finished projects (both edible and of the craft variety) over the next few weeks.