Please Note: Not to be shared with dogs!
I have no idea why this sort of snack is called Puppy Chow – All I know is that it is delicious and very addictive. I have numerous combinations of Puppy Chow – The original version should contain peanut butter but I much prefer my almond version.
Perfect for when you have guests over Christmas but make sure you make double! The idea for puppy chow originates in the US and uses Chex cereal – These look like Shreddies but are not malted. I find that Golden Grahams taste just right. There is no need to be exact in your weighing of the ingredients – This recipe is meant to be fun, quick and easy and different with every delightful mouthful!
Marzipan Puppy Chow
Print recipe
Almond Puppy Chow snack recipe with toasted marzipan
Ingredients
3 cups Cereal such as Golden Grahams
150g Milk Chocolate
50g Flaked Almonds
100g Marzipan (Lightly toasted under the grill for 2 minutes until just turning golden)
100g Icing Sugar
Directions
1.
Melt the chocolate in a glass bowl over a pan of boiling water - Remove from the heat when runny
2.
Add the cereal and nuts to the chocolate and mix through
3.
Chop the toasted marzipan into tiny cubes and mix through into the chocolate cereal mix
4.
Pour the icing sugar into a large strong food bag
5.
Add the chocolate cereal and shake until all cereal/nuts/marzipan are covered by the icing sugar
6.
Serve immediately
Very quiet week last week for Foodie Friday – don't forget that even if it isn't Friday any more, the link is still open until the next Thursday evening. For Otilia's week we have these 3 entries:
From left to right :
Melt in the Mouth Churros from Truly Madly Kids. I've made Churros and know how hard they can be to keep their shape so massive well done!
Slow Cooked Beef in Red Wine Sauce from Dragons and Fairy Dust. Cor! How inviting does this look?
And last but not least this delicious looking Marinated Flank Steak Recipe from Broward Saves
The linky for this week is now open – I'm going to be sharing like mad so you will all be sick of seeing me. The theme is a super easy one …SWEET!! Yes all things sweet, cakes, chocolates, sauces, dips, sugarcraft – Remember you don't have to include a recipe – just a post (or more than one!) about sweet food is fine. As usual, all entries will be commented, tweeted, pinned and shared on Google+. Here is the badge to include in your post – Feel free to spread the word about Foodie Friday. Otilia will be back next Friday to do the roundup and open a new theme.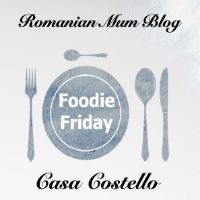 Loading InLinkz ...
I'm joining in with the following: Emily's Recipe of the Week, SupergoldenBakes' Cook,Blog,Share